Sirius Signal
LED Distress Signal +
Daytime Flag & Whistle
C-1003 $ 89.00 (above)

Weight-0.8 lbs Dimensions-8.5"H x 4.5"W


C-1002 $299.00 (below)

(C-1002 is special order-allow extra time)
Weight-1.4 lbs Dimensions-8.5"H x 4.5"W
Smartphone or Smartwatch NOT included
The Sirius Signal SOS Distress Light
is the first U.S. Coast Guard approved
non-pyrotechnic marine distress signal
on the market and it runs on 3 ordinary
C size alkaline batteries (Included),
6 hours at peak intensity, 60 hrs total.
Do you HATE buying new
flares every 3 years?
FRUSTRATED trying to
dispose of old flares?.
With included distress flag & whistle,
meet Coast Guard 46 CFR 175.130
requirements for day, night & sound.
It meets these requirements without
dangerous and toxic chemicals.
It's user friendly SAFETY FOR LIFE.
It's both family safe and easy to use.
No flame, no dangerous chemicals,
safe around children, no environmental
disposal problems, no expiration date,
easy to use, and you only need one.
NEVER BUY A DANGEROUS FLARE AGAIN
Powered by a high-performance,
microprocessor controlling an SOS
signal flashed via a CREE LED bulb.
The design provides an omni-directional
light for surface rescue craft and a
vertical beam to aircraft flying overhead.
Do you think it's DANGEROUS
to carry flares that burn/explode?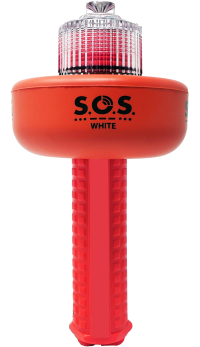 Battery-operated, buoyant, and
lightweight, it can be hand-held,
tethered, or hoisted aloft.
Visible up to 10+ miles, the beam lasts
HOURS not minutes like flares do,
or seconds like flare gun meteors.
Designed, engineered, patented,
and produced in the USA.
ONE TIME PURCHASE with no expiry
date so no disposal is needed.
It can easily be tested by
simply turning the on/off switch.
Use and Instructions (c1003)

Thank you for purchasing a Sirius Signal product. Please read all instructions before you use it. Your LED eVDSD device will give you years of trouble-free service if you follow these simple instructions:
HOW TO INSTALL BATTERIES
Unscrew the top lens, by turning the Lens to the left (counterclockwise)
Insert 3 C-cell batteries, positive (+) end up towards optical lens cap.
Use alkaline cells for best results.
Place lens back on, screw lens to the right to activate (clockwise)

OPERATION OF THE DEVICE:

1. To turn on, hold the device body in one hand and turn optical lens clockwise until the light turns on.
2. To turn off, turn the lens optic counterclockwise and continue to turn it one full turn after the light goes off. This prevents the light from coming on accidentally.

CAUTION:
DO NOT LOOK DIRECTLY INTO THE OPTIC WHEN IT IS OPERATING; DO NOT SHINE INTO THE EYES OF OTHERS. EYE DAMAGE CAN OCCUR! THIS DEVICE IS FOR EMERGENCY USE ONLY!

IMPORTANT
Check for continuity of the O-RING/ seal by a visual check through the clear lower portion of the Optical lens cap. A solid continuous black ring indicates a proper seal. Occasionally clean and lightly lubricate your O-RING and cap threads. USE ONLY SILICONE GREASE, NEVER USE AEROSOL SPRAY LUBRICANTS

IF YOUR LED eVDSD FLOODS

1. Remove and discard batteries
2. Flush body and all parts with warm fresh water; preferable distilled water. DO NOT USE SALT WATER.
3. Dry thoroughly then check for damage or corrosion.
4. Return to factory or replace parts as necessary (LED is only replaceable as unit).

BATTERIES
CAUTION

Battery formulations can emit hydrogen gas. This gas can create an explosion potential in sealed devices if it is not vented or removed. The platinum catalysts included in our devices help remove this gas.
Do not insert batteries into eVDSD if electrical components are damaged or missing. Do not insert batteries backwards or other than positive + end up. Do not mix batteries of different types or state of charge; always use fresh batteries of same type.

IMPORTANT
Remove batteries from the device during long periods of storage. Remove exhausted, leaking or flooded batteries from the device immediately and DO NOT REUSE THEM, LEAKING BATTERIES CAN BE CORROSIVE OR CAUSE SKIN IRRITATION. Improper installation of the batteries may damage your LED eVDSD and void the warranty. FOLLOW BATTERY MANUFACTURE'S SUPPLIED SHELF LIFE GUIDELINES and EXPIRATION DATE ON BATTERY. Sirius Signal recommends checking and replacing batteries at the start of each season. For extended use carry spare batteries for additional run time.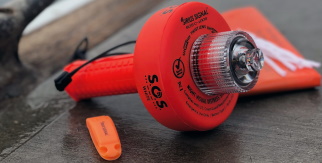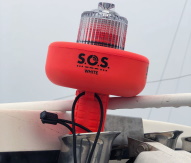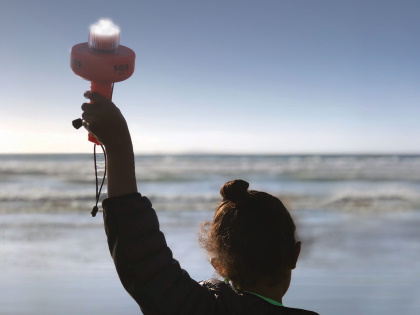 Want More?
The Sirius Signal C-1002
Has a 2 color LED signal + IR
is Submersible
Runs on 8 CR123 batteries
Bluetooth Enabled
Pairs with Sirius Signal App
and More