The 27073 bracket (sold in pairs)
is the solution to the problem.
While at the dock, you may want the cockpit steps
on the side where the dock finger is,
but on the side away from the finger,
you may want to hook in a drink holder.
While under way, you may want a binocular holder.
BUT WHAT IF YOU WANT TO ATTACH SOMETHING ELSE?

Something you made yourself or something that wasn't designed to be mounted that way.
Do you have a bracket
that looks like this
on the side of your boat
or in your cockpit.

They are designed
to hold removable
boarding ladders
or cockpit steps.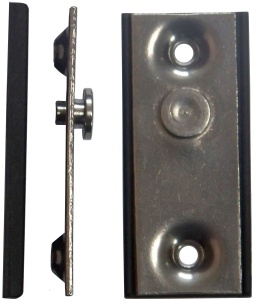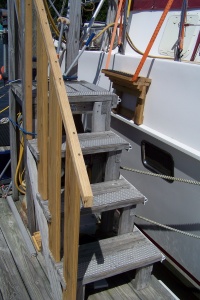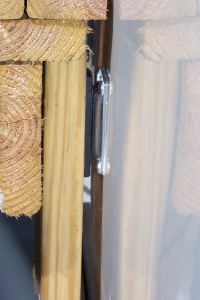 When we travel, we dock stern in and have aft boarding steps.
At our home dock, we board via the starboard mid rail gate.
The dock isn't long enough to reach our stern steps
and the slip not deep enough to go stern in.
After Diane's knee surgery I added a dock step hand rail and
an extra step to aid in the transition to the boat's side deck.
I made a wood step where the rear support sits on the rub rail,
the front edge hangs by a web strap attached to our rails,
and it's all locked in place by the 27073 brackets.
When we travel, it just lifts off.
I searched the for the correct hardware to attach the step
to the bracket that normally holds our boarding ladder and
now that I've found it, I'm happy to make it available to you.
Glen
PLEASE NOTE: Most boats in the US have the receiver plate (shown at the top of this page) attached to the boat and the ladder or step terminates in the button end (like the 27073 plate) that hooks into that receiver. In Europe most boats have the 27073 plate attached to the boat and the ladder or stel terminates in a slot that acts as the receiver. The typical European is done in the opposite way from a typical US connection, but although backwards, the parts still fit. This 27073 plate is the one usually found on the sides of European boats.
27073 Bracket
$22.00/pair