Maine Coast Marine Products
makes quality custom fleece fender covers
that fit most popular boat and large yacht fenders.
Made in the USA from genuine Polartec polar fleece,
they protect your gel coat, awlgrip paint,
boot stripe and your fenders too.
Use the Drop Down Menus to order.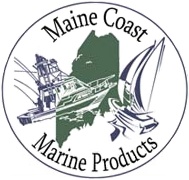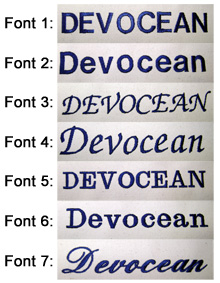 Polyform F Series

Double Eye

Taylor Tuff End

Double Eye

Polyform G Series

Taylor "Hull Gard"

Taylor "Super Gard"

Polyform HTM Series

Taylor "Big B"

Taylor Low Freeboard

and Taylor Freedom

MEGAFEND

Polyform A Series Round

Taylor "Tuff End"

North Atlantic

Inflatable Fender Covers

Dock Wheel Covers

Deck Mats

(includes boat name only)
Embroidery Options

Add your boat name
($9.00 per cover)
Choose Font, Orientation & Thread Color

(most colors available)
Choose
Name Orientation

(Across or Lengthwise)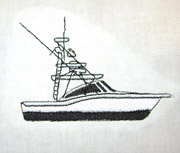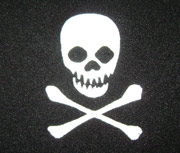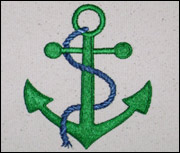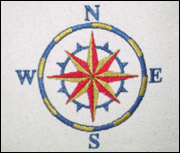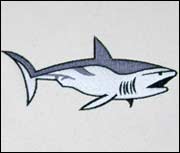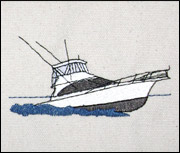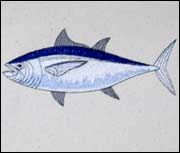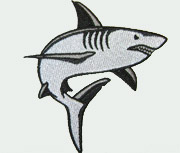 Add Graphics - Samples Below (prices and colors as shown)



Across
Orientation
Across
+ Graphic
Lengthwise
Orientation
shown below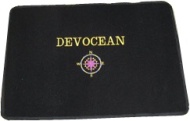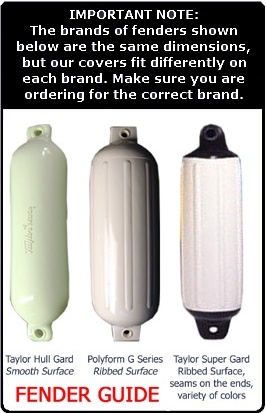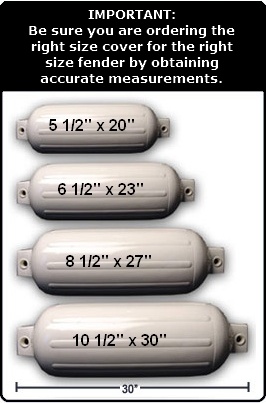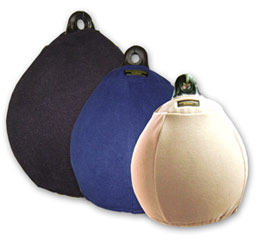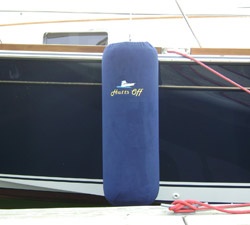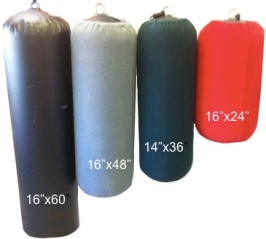 Round Fender Covers
North Atlantic
Inflatable Fender Covers
Dock Wheel Covers
Deck Mats (Black Only)

MEGAFEND Covers
Taylor Low Freeboard
and Freedom Covers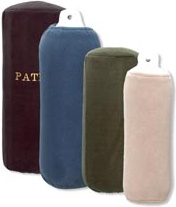 HTM and Big B Covers
G, Hull, or Super Covers
Taylor Tuff End Covers
Polyform F Series Covers
If you have fenders that are not listed by companies like, Scanmarin, AERE, Fend-Air, Prostar or others, or models by Polyform, Taylor or MEGAFEND that are not listed, please contact us with the models and dimensions. We may have patterns that are not listed, or may be able to custom make the covers you need.
Maine Coast products ship directly from the manufacturer and are custom made to order. Please allow time for fabrication and shipping. Also make sure sizes, brands, models, colors and quantities are correct when you place your order. Happy Cove and Main Coast will make sure we fill your order accurately, but we are not responsible for incorrectly ordered items.
IMPORTANT:
Over time the dark colors will fade due to the Sunís UV rays. This will not affect the integrity of the material. To extend longevity and performance, we recommend that you wash your fender covers at least once every season. Use the gentle cycle, cold water, wash with mild detergent and air dry.
Be sure
embroidery quantity and graphic quantity
(if selected) matches fender cover quantity
Available Colors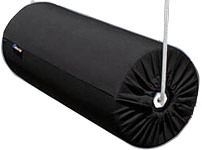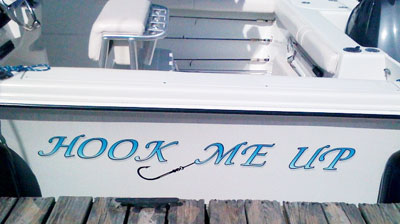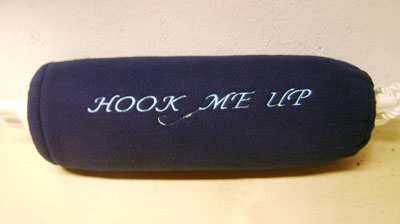 Custom
inflatable sizes
available
like this
27 x 70
(Shown Left)

and

Custom
Graphics too.
(Shown Right)
Contact us
for prices.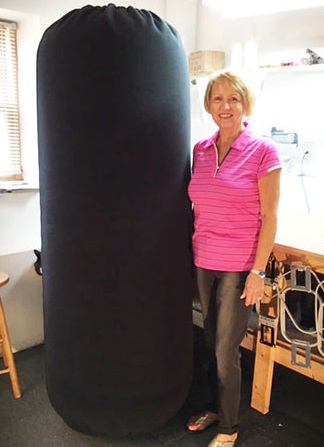 10x26" Burgundy only
Cancelled Order Special
(4 available - $34 each)

Contact us for
F-1 & F-02 prices
Contact us for
Aere or Avon
Inflatables