BN10 7x50 Sport Binocular $229.00
Lightweight and easy to focus on objects near and far, our center focus Sport binoculars live up to their name as the perfect mate for boating, sporting events, bird watching, and sightseeing.
- Fold-down eye cups
- Soft black case, padded neck strap, and lens covers included
- Two year warranty
Dims: 180x198x64mm (7x7.8x2.5")
Prism: Roof prisms are more compact and lightweight. Porro prisms offer superior optical performance, but the roof prism in the BN29 is coated with an anti-phase shift coating, making it equal in quality to a porro prism. Also, the BAK4 glass used in W & P binoculars is the best high density glass available eliminating internal light scattering and producing sharper images.
Reticle: Built in range-finding reticle allows you to calculate the distance to an object of a known height. Combined with a compass, you can determine your position.
Compass: A built in magnetic compass, which appears superimposed near the image you see through the lens allows tou to take a bearing to an object. This is valuable in determining your location relative to other objects.
Lens Coating: All air to glass surfaces have received multiple coatings. Fully Multi-Coated lenses offer the best light transmission and brightest images. This method is much better than fully coated or uncoated.
Focus: Center focus systems allow you to change focus quickly between near and far objects. Individual focus binoculars allow you to prefocus each eye for viewing objects from 40 yards to infinity without any further adjustment.
Field of View: The size of the area that is visible through your binoculars can be expressed as an angle or a distance across the view area at 1000 yards.
Purge Gas: Binoculars are filled with an inert gas to improve light transmission, prevent fogging and remove moisture. Nitrogen is the industry standard, but Argon offers an advantage, because it reacts less with your binocular's internal parts.
Exit Pupil: The size of the circle of light you see when the binoculars are 6" away from your eyes. Larger is better, because low light images will appear brighter.
Eye Relief: The maximum distance between the eye piece and your eye, while still being able to see the full field of view. 9 to 12mm is considered standard and is fine unless you wear glasses. 15 to 23 works better for those with glasses and also gives users the option of not always pressing hard against the eyecups.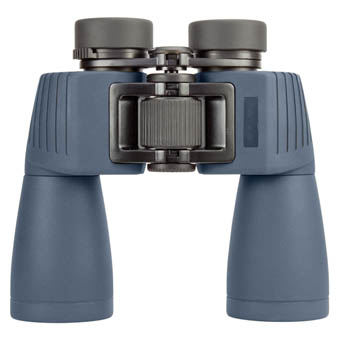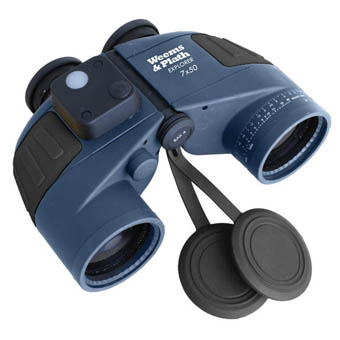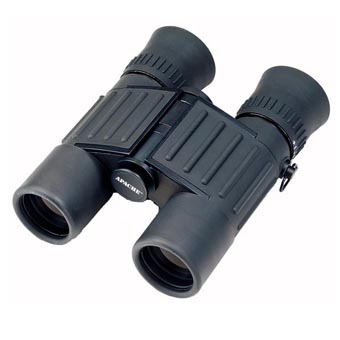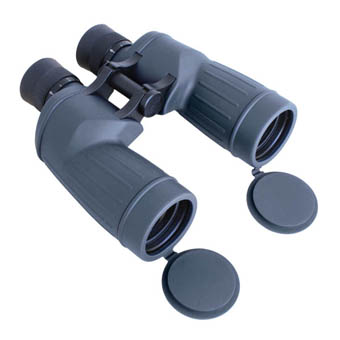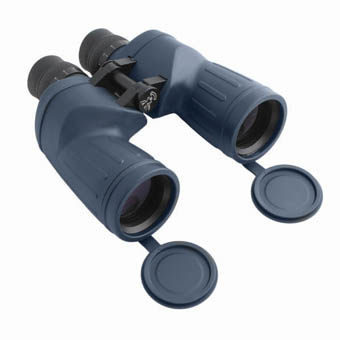 BN20c 7x50 Explorer Binocular $289.00
An excellent value and popular choice for all, these Explorer binoculars float, are waterproof and have the added feature of an illuminated compass and range finder reticle. The ability to take accurate compass readings on the water makes these lightweight binoculars perfectly suited for safe navigation while racing or coastal cruising.
- Illuminated compass and range finder
- Fold-down eye cups
- Soft black case, padded neck strap, and lens covers included
- Two year warranty
Dims: 150x200x68mm (5.9x7.9x2.7")
First, a quick definition;
All binoculars are rated with a number like 7x50
(The most popular rating for boating binoculars.)
Weems and Plath has a full line of binoculars for any adventure on land or sea, mountain top or lake.
The first number (7) is the magnification. If this number is too small, the subject may not appear large enough to see clearly, but if it is too big you may have trouble holding steady enough to keep the subject in view. This is especially true on a moving boat and why high power binoculars and telescopes use tripod stands to hold them steady.
The second number (50) is the size of the objective lens in milimeters. The bigger the lens, the more light can enter and the brighter the subject will look in low light conditions, but the larger and heavier the binocular will be. As with anything, there are practicle limits, and 50 seems to be the accepted compromise for boating and most other uses.
BN29 7x28 Apache Binocular $399.00
Built to the same tough standards as U.S. Army M24 binoculars the BN29 is compact, waterproof, lightweight and perfect for rugged outdoor use. They work well in low light and can withstand a drop from 6 feet.
- M-22 reticle (left view) allows easy range or distance estimation
- Hermetically sealed, nitrogen purged-water & fog proof
- Exclusive Stimulated Penetration Anti-Reflection Coating
optics eliminate internal glare and ghost images resulting in
nearly 95% light transmission at night or in low light
- Anti-corrosive, lightweight aluminum body will pass mil spec
6' drop/shock test and withstand a vibration test equal to 20g
- Five year factory warranty against defects, fogging or leakage
Dims: 129x118x38mm (5x4x1.5")
BN40 7x50 Classic Binocular $389.00
The Weems Classic binoculars are built to exceed military specifications with excellent low light capabilities and high resolution. These seaworthy companions are found on military and commercial ships and pleasure boats alike.
- Rubber-armored & fold-down eye cups
- Soft black case, padded neck strap, and lens cover included
- Two year warranty
Dims: 192x202x66mm (7.6x8x2.6")
BN50 7x50 Pro Binocular $499.00
The Weems PRO is loaded with features for discriminating professional sailors and mariners. Built to exceed mil specs for superior optical performance and durability, they provide high resolution and brightness at dusk and dawn. "Flat Field" lenses result in excellent edge-to-edge sharpness and optimal eye relief, they provide superb image quality even when wearing glasses. With a tough rubber-armored exterior for a non-slip grip plus shock and water resistance make the Weems PRO the ideal companion when the going gets tough.
- Rubber-armored & fold-down eye cups
- Soft black case, padded neck strap, and lens cover included
- Two year warranty
Dims: 195x215x72mm (7.8x8.5x2.8")
Item

Weight
(oz)

Prism

Reticle

Com-
pass
Lens
Coating

Focus

Field at
1000 yds
Purge
Gas
Exit
Pupil
Eye
Relief

Construction

BN10

33.5

PORRO/
BAK-4

No

No

Fully
Multi
Coated

Ctr

367'

Argon

7.1mm

24mm

Aluminum
Alloy

BN20c

29.25

PORRO/
BAK-4

Yes

Yes

Fully
Multi
Coated

Ind

396'

Argon

7.1mm

23mm

Polycarbonate

BN29

14.5

Roof

Yes

No

Fully
Multi
Coated

Ind

362'

Nitrogen

4.0mm

15mm

Aluminum
Alloy

BN40

40.5

PORRO/
BAK-4

No

No

Fully
Multi
Coated

Ind

413'

Argon

7.1mm

20mm

Magnesium
Alloy Body

BN50

51

PORRO/
BAK-4

No

No

Fully
Multi
Coated

Ind

430'

Argon

7.14mm

23mm

Magnesium
Alloy Body
All Weems & Plath binoculars are waterproof. All include a soft case, lens covers & neck strap except BN29 which has no case.